Our commitment to you
We take pride in designing product with the goal of highest standard with reasonable price range. We continually support new technologies for
improving sound reproduction. Before and after you purchase any product from Kinyo, we encourage you to compare the quality and price,
as we always do, never stop to produce competitive products for best audio accuracy. We believe this process will enhance your appreciation
of the product you select.
Limited Warranty
Kinyo Company lnc. (KINYO) warrants this product to the original purchaser against defects in material and workmanship for a period of one (1)
year from the date of purchase. Kinyo will, at its option, repair or replace the defective product at no cost to you during the warranty period.
The warranty will not apply if the unit has been subject to accident, misuse, abuse, disassembly, altered or operated
contrary to the instructions contained in the accompanying manual. To obtain warranty service, proof of purchase, in the form of retail receipt,
bill of sale or invoice must be presented as evidence that the unit is within the warranty period. The product must be packaged either in its original packaging or in such a way as to reasonably protect it from shipping damage. Properly fill out the warranty card with description of problem. Send the product freight prepaid or deliver to:
To: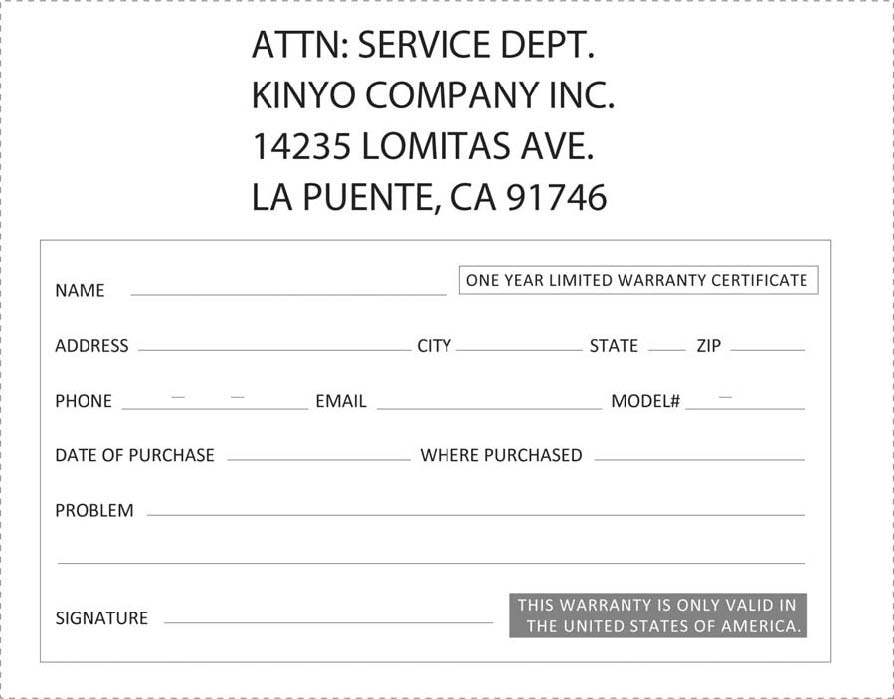 What we will do:
During the warranty period, we will, at our sole option, repair or replace (using new or refurbished replacement parts) any defective parts
within a reasonable period of time and free of charge.
What we will not do:
Pay shipping, insurance or transportation charges from you to us, or any import fees, duties and taxes.
Once we receive your returning product, we will contact you either phone or email.
What you must do to obtain Limited Warranty Service:
Return product, with proof of purchase from an authorized Kinyo dealer, using the following procedures:
1.

Fill

out

or

download

the

warranty

card.

2.

Label

and

ship

the

product

and

warranty

card

and

freight

prepaid

.